(Last update .18. Aug. 2008)
Workshop on  
Interaction of ions with insulators
September 8(MON)-10(WED), 2008
NOZAWA-ONSEN (IIYAMA) 
NAGANO, Japan
RIKEN
Photos
Talks
We will organize a Workshop on Interaction of Ions with Insulators (WIII08). The related fields are rapidly growing in these days, and many new findings have been reported. We believe that it is just timely to have the workshop on the field to exchange our latest results and new ideas. It is planned to have almost all the principal players of the fields in the workshop.
Date: September 8(Mon)-10(Wed), 2008
Hotel and conference : BUNKA-HOKRYU-KAN
Address: 7332-2 Mizuho, Iiyama-shi, Nagano-ken
Tel: +81-269-65-3121
Fax: +81-269-65-4515
http://www.bunkahokuryukan.com/index.php (in japanese)
Correspondence:
Organizer: Y. Yamazaki (Univ. Tokyo & RIKEN) Tokihiro Ikeda (RIKEN) Yoshio Iwai (RIKEN) (web site)
Sponsor: RIKEN
Participant List
| | | |
| --- | --- | --- |
|   | Name | Title |
| B | J.Burgdörfer |   |
| C | A. Cassimi | Imaging dynamics of charge-self-organization in glass capillaries: Latest results and prospectives |
| E | V.Esaulov | Fluorine scattering on TiO2 |
| F | M.Flores | Nanodots induced by highly charged ions using glass capillary : preliminary results |
| F | N.Fujita | |
| H | M.Hoshino | |
| H | B.Huber | Ion- and collision-induced fragmentation of biomolecular systems  |
| H | R.Hutton | |
| I | T.Ikeda | Guiding of slow highly charged ions through a thin gap between a pair of parallel glass plates |
| I | N.Imamoto | Ion irradiation in liquid: possible application for cell biological studies |
| I | K.Ishi | Progress report of material analysis with glass capillary in Nara Women's University |
| I | A.Itoh | Present status of microcapillary experiments in QSEC heavy ion laboratory of Kyoto University |
| I | Y.Iwai | Ion irradiation for living cell surgery using a tapered glass capillary with end window |
| K | T.Kaito |   |
| K | Y.Kanazawa | Nano fabrication by slow highly charged ions using a glass capillary  |
| K | Y.Kobayashi | Heavy-ion microbeam as a probe of cellular radiation response |
| K | T.Kobayashi |   |
| K | T.Kojima | Density enhancement of muon beams with tapered glass tubes  |
| M | X.Ma |   |
| M | J.Matsuo | Molecular Imaging of a Single Cell with Nuclear Microprobe  |
| N | S.Nakagawa |   |
| O | N.Ohshima | Positron microbeams and their applications |
| O | B.O'Rourke |   |
| S | K.Schiessl | Simulation of guiding of charged particles through nanocapillaries: ions and electrons |
| S | N.Stolterfoht | Principles and new aspects of ion guiding through nanocapillaries in PET polymers |
| T | K.Tamao |   |
| T | J.Tanis | Fast electron and ion transmission through PET nanocapillaries |
| T | H.Tarek |   |
| T | K.Tőkési |   |
| T | L.Tribedi | Fast ion atomic collision processes in free C60 and solids  |
| V | D.Vernhet |   |
| Y | Y.Yamazaki |   |
| Y | A.Yasaka | Recent progress of micro/nano fabrication using FIB |
| Y | H.Yonemura | Transmission of 15N at 6 MeV through glass capillaries |
| Z | H.Zhang | Slow highly charged ions guided through SiO2 nano-capillaries |
| Z | S.Zhang |   |
| Z | Y.Zou |   |
Program : PDF
Information :  floor map  (BUNKA-HOKRYU-KAN)
Travel:
Conference Bus
September   7(SUN) 
The University of Electro-Communications  14:00------RIKEN 15:00------IIYAMA  Conference site (Bunka-Hokuryu-Kan) 19:00
September 10(WED) 
IIYAMA  Conference site (Bunka-Hokuryu-Kan)9:00------ZENKOUJI TEMPLE 10:30--(Lunch)----12:00-----RIKEN  16:00
<![if !vml]>

<![endif]>                                                                                        ------Nagano stn.
From Tokyo Narita airport/Nagano   (4h20min)
Narita Airport stn.  --(JR Narita Express)--Tokyo Stn ----(Nagano Shinakansen Asama) -----Nagano stn. ---(JR Iiyama line) ------TOGARI-NOZAWA-ONSEN Stn. ---(taxi -10min) --Conference site (Bunka-Hokuryu-Kan)
From Tokyo /Nagano   (3h20min)
Tokyo Stn--(Nagano Shinakansen Asama) ----Nagano stn. --(JR Iiyama line) ---TOGARI-NOZAWA-ONSEN Stn. ---(taxi -10 min)--Conference site (Bunka-Hokuryu-Kan)
From Osaka,Nagoya/Nagano  (4h)
Shin-Osaka stn.--(Tokaido Shinkansen)-----Nagoya --(JR Chuo line)------Nagano Stn. ---(JR Iiyama line)----TOGARI-NOZAWA-ONSEN Stn.-----(taxi -10 min)------Conference site (Bunka-Hokuryu-Kan)
Venue: NAGANO
Nagano Prefecture is the treasure house of nature, history and culture. Situated in the center of Japan, it is home to the Northern, Central and Southern Alps, and so is often referred to as the "Roof of Japan." Its 13,585 square kilometers play host to four national parks that offer year - round recreational activities, from hiking and camping in spring, summer and autumn, to skiing and skating in winter. The innumerable peaks naturally provide a challenge to mountain climbers of all calibers.
Summer is refreshingly cool, spring and autumn are invigorating, and winter is a snowy wonderland. The many mountains have also ensured a good supply of healthful hot spring spas, patronized by residents and visitors alike.
The apples, grapes, pears and peaches cultivated here are renowned throughout Japan, as are the vegetables grown in the highlands. The clear water and clean air have attracted the growing interest of the precision and electronics industries, which have been erecting a number of factories in the area.
In 1998, the Winter Olympic was held in the various regions of Nagano Prefecture; during this time Nagano was able to impress the people of the world.
<! ------------------------------------------ >
Conference site:
Togari-Nozawa Onsen (Iiyama)
Nozawa Onsen is famous for the huge amount of hot springs (onsen). There are more than 30 hot springs, with 100% natural hot water.
BUNKA-HOKURYU-KAN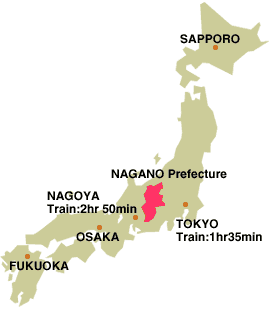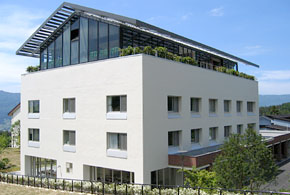 <! ------------------------------------------ >
KOSUGE - SHRINE ( year 680)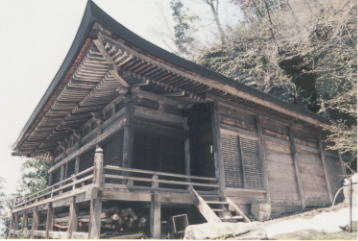 The shrine has been designated as an important national cultural asset.
The area is good also for short hiking and e.g. Kosuge Shrine started 680AD is in a walking distance.
<! ------------------------------------------ >
HOKURYU LAKE (hotel on the lake front)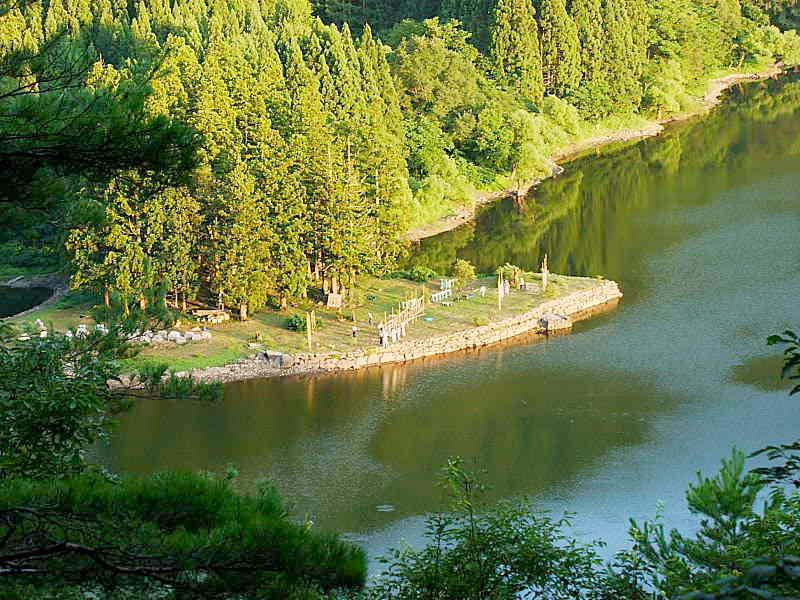 <! ------------------------------------------ >
ZENKOJI TEMPLE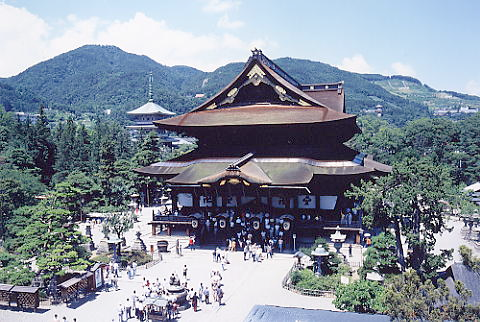 Zenkoji Temple: According to historical records, this temple is believed to have been established by Yoshimitsu Honda in the seventh century. The main image of Zenkoji Temple is said to be the first image to have been brought to Japan via Kudara (currently Korea). It became a secret image in 654 and has been kept hidden from the public. The occasion on which the Maedachi-honzon, a duplicate of the original main images is taken out of the treasure house and displayed to the public in the Main Hall once every six years is called the Gokaicho. This temple has not belonged to any Buddhist sect and has been widely popular among all walks of people. It has been particularly famous for having accepted female pilgrims since old times. Although the Main Hall has been burned by occasional fires, it was reconstructed each time. The roof of the Main Hall is the largest hinoki-thatched roof in Japan. Under the holy altar or "Ruri - dan" in which the main image of the temple is enshrined, there is a pitch-dark underground passageway where visitors seek the key to the Buddhist paradise.
The key can be found directly beneath the alter.